In 2016, my partner Angela (who designed the logo!) noticed a request for assistance preparing a handful of donated Macs that would be used by a charity - Black Women in Motion. Realizing there were no responses, and knowing my adoration for Mac tinkering, she mentioned the post to me, and I ventured to the founder's home to service all the computers. After a successful mission, I realized the need for friendly, affordable, honest repairs in the downtown Toronto area, and placed a few ads on local Facebook pages. Years later, I have repaired and upgraded hundreds of Macs, other Apple devices, Windows computers, and even some small appliances - helping people continue using the technology and household items they know and love, and avoid buying new things that they don't necessarily need.

I work in corporate IT full-time, and continue to offer repairs from my apartment in the Dovercourt Park area, with COVID-safe drop-offs and pick-ups in this uncertain time. I have also worked for Apple Retail (Eaton Centre, Toronto), an Apple Authorized Reseller (Jump+, previously Computer Systems Centre), and a third party repair shop (iRepair).

Drop me a line to discuss upgrades for your Mac, or options for a repair you need done.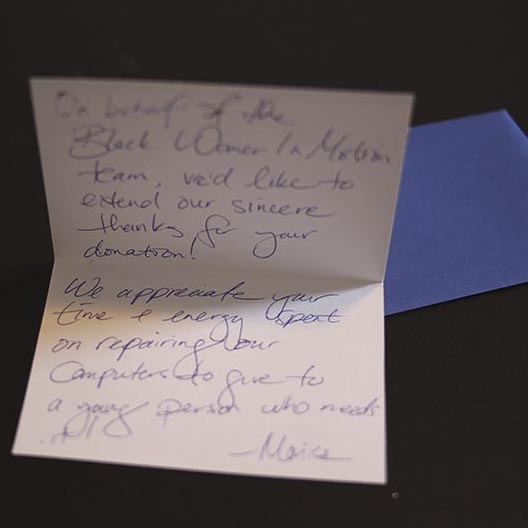 ❝Jonathan is great! I highly recommend going to him! Helped me tremendously with my iPhone SE and assisted with my mental breakdown of loosing a phone so quickly haha.❞

-Hellen YF
❝Thank you! Jonathan went above and beyond replacing my hard drive and RAM, he also cleaned out the inside of my laptop which was gross! Thank you again for that 😁100% would recommend Jonathan's services for Mac products!❞

-Michelle A
❝Affordable, quick and set up perfectly for proper social distancing. Thank you!❞

-Katherine Y
❝Fast and friendly! Thanks again!❞

-Graham L
❝So happy with this! Thank you!! Backstory: MacBook Pro Mid-2009 was barely turning on and no one at the Apple store wanted to touch it since they weren't carrying parts for it anymore and didn't want to be liable for any damages that couldn't be repaired in store. Found Jonathan and he told me exactly which part to order online and brought the replacement part and computer to him. He fixed, cleaned, updated, and transferred all the data within a day and now it's working againnn! Definitely recommend❞

-Jacqueline L
❝Highly recommend Jonathan Hutchinson. He's been super responsive and has gone above and beyond what I've asked.❞

-Mike C
❝Thank you so much Jonathan Hutchinson ! You will forever be that computer guy we will call on! Lol you are the best!!❞

-Andrea B
❝Jonathan absolutely turned my old outdated laptop top into an Content editing beast. I told him a had a tight deadline , and he did not disappoint ! Highly recommend !❞

-Kyle B
❝I had an issue with my MacBook Air, some malware that wouldn't go away. Jonathan took a look at it, fixed it, double checked everything, and then showed me what the issues were. He's quick, efficient, and polite. In short, he's awesome.❞

-Nir S
❝Jonathan Hutchinson did an amazing job on my macbook pro (2010)! It's incredibly faster now, almost like a brand new laptop. At first, I was a bit weary handing over my laptop to a complete stranger for a day, but everything went perfectly. Faster laptop with all data migrated for incredibly much less than the apple store—highly recommended!!❞

-Teena Tah
❝Jon just returned my MacBook Pro after replacing the hard drive and I am wholeheartedly glad I did not go to a retailer for this service. He was easy to communicate with and provided several options for the replacement hard drive in a very timely manner. Now I can get back to my regularly scheduled programming of shows my boyfriend wont watch. THANK YOU JON!!!❞

-Leyla G
❝Johnathan is the reason my macbook pro (7 years old) functions like new. He was able to help me through downgrading My OS when traditional attempts were unsuccessful, and through cloning and installing an SSD in place of my failing HD. He's a great guy who really knows his stuff.❞

-Cody B
❝AMAZING!!! Jonathan was able to revive a paper-weight computer ... not only able to save ALL the data as requested, but also make the once dead computer usable again! All with amazing communication of the entire process, able to explain to a very non-tech savvy person and super fast timelines and very reasonable trades! Would HIGHLY recommend and will use again!!! THANK YOU!❞

-Jenna S
❝Best experience EVER, you are my go-to guru! With three kids at home (2 under 3) and the closest Apple Store being not close at all, you saved me. Really and truly. Loaf drop-off pending❞

-Sandra D